"David is more than a simple cycling coach. On top of being really present and working hard at researching and developing creative trainings to help us improve, he also help us organize our personal lives. He makes sure everything in our lives is set up properly so we can arrive ready and well prepared for every workout or races. In other words, he teaches us how to create our personal perfect training environment, and it makes a huge difference to know that you have so much support from your coach. "
Maghalie Rochette (Current Cyclocross Pro National Champion, 2014 U23 Pan American CX Champ, Top 10 @ U23 MTB Worlds, Québec's only Pro Team MTB Athlete @ Luna Pro Team)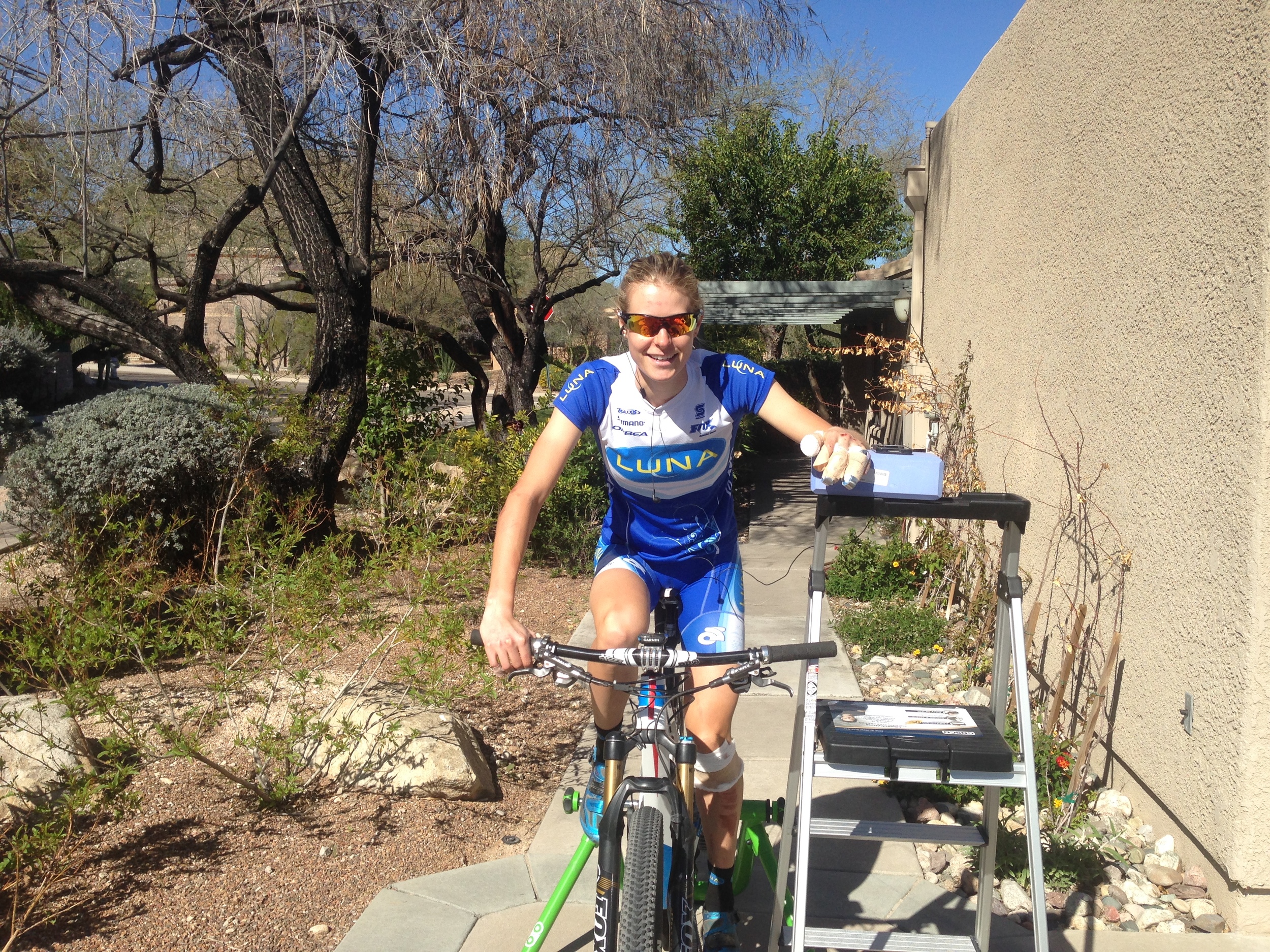 « After a tough last U23 season with a lot of injuries, I started to work with David, hoping to get back on track soon. However, I could not imagine how much fun, motivating and life changing this whole experience would be. I used the term 'life changing' because since then, I have changed the way I approach training and racing, it has become a lot more fun and I am now able to put a higher level of commitment in everything I do. Apart from being constantly reading sports related books and making sure he is aware of the latest training theories or technologies, David brings a lot of ideas from totally none-related cycling sports. It makes it really interesting and gives you a different perspective on how things can done. Starting to work with David has been a turning point in my career yet, I know he works as hard as I do and really believe in what we do; when I get to the start line, I'm confident and ready to go.»
«Après être sorti des rangs U23 avec quelques blessures, j'ai commencé à travailler avec David pour relancer ma carrière cycliste. À l'époque, je ne m'imaginais pas combien motivant et plaisant serait cette expérience. Depuis, j'ai changé ma façon d'approcher l'entraînement et les compétitions; ce qui a diminué mon niveau de stress, augmenté mon niveau de confiance et me permet de mettre beaucoup plus d'effort dans l'atteinte de mes objectifs. En plus de toujours s'instruire sur les différentes facettes du sport amateur et professionnel, David met une quantité d'efforts considérable pour être certains de connaître les théories d'entraînement et technologies les plus récentes. David amène beaucoup de nouveaux concepts de différentes disciplines sportives, ce qui rend le tout très intéressant et a changé ma perspective sur comment les choses peuvent être faites. Commencer à travailler avec David a été un point tournant pour moi jusqu'ici, il s'implique dans notre réussite comme peu d'entraîneurs savent le faire et croit en ce que nous faisons. Lorsque j'arrive à la ligne de départ, je suis confiant et toujours prêt à partir!»
Jeremy Martin (FOCUS PRO TEAM, Current PRO Cyclocross National Champion,Provincial MTB Champion, Multiple times national MTB and CX team member for World champs. Mutilple Pro race Wins in 2015/2016)
The MTB national championships are over, I'm satisfied whit my first year as a junior, but I'm aware that I will have to change something if I want to represent my country at worlds next year, so I decided to talk to David. It's been a year and a half since I started working with Dave and It changed everything. With his help, I learned how to improve my physical training, but more importantly, everything around the training (nutrition, recovery, lifestyle, mental training...). I just finished a wonderful season after winning junior road nationals and representing my country at the junior elite world championship. His everyday support, his full time commitment and his help on so many different levels (equipment, training, contracts, sponsors, etc.) are making him more than a coach, he's a great mentor and a career manager. Next year's preparation already started, and I'm confident that with team we have set around me, and David's help, there is no limit on the level I can reach
A. Roberge (Silber Pro Cycling, Road junior National Champion, Podium @ U23 TT nationals, Podium at European Races, many top 15 @ euro UCI races, 6th at Cyclocross Nationals (first year U23).
" I have been coached by David for the past 4 years; in that time he has taken me from back of the pack rookie to multiple podiums across various distances. He is a true genius with an ever evolving knowledge of the sport, who gets the very best out of his athletes while keeping training & racing fun! "
J.Gorham (Mother of a beautiful little guy, Team Betty Designs Triathlete, multiple times Olympic and 70.3 podium finisher)
Athlète de pointe jusqu'à 25 ans, j'ai repris la forme il y a 5 ans, après une pause de 10 ans . Les 2 premières années de mon retour, seul avec mon expérience et l'Internet, mais depuis 3 ans avec David. David m'a appris à me reposer et à prendre soin de ma tête . Ironiquement, plus je me repose et plus je suis performant au moment opportun . Les lectures et apprentissages que Dave me partage ont fait de moi un athlète plus à l'écoute de lui même , plus stable et un athlète avec une plus grande capacité d'adaptation . Avec la tête en ordre , le physique devient secondaire.
Francois Thibodeau (Équipe PowerWatt Nord, Father of a cool little guy, Firefighter and National Level Masters racer)
" Merci bien mon Dave, c'est un peu(beaucoup) grâce à tes conseils, ton powerwatts et ton coup de pouce psychologique que j'arrive à de si bons résultats. Continu d'inspirer et de conseiller tu as un don!!"
N. Martineau (Successful businessman, Father of 2, and 11h at first Ironman after 9 months of training)
"L'encadrement de David, par son côté humain, par son exigence élevée mais d'une reconnaissance proportionnelle et par son approche non-orthodoxe à certains moments m'a permis d'atteindre de nouveaux sommets en tant qu'athlète mais aussi en tant que personne et pour ça j'en suis très reconnaissant ! Je suis la personne que je suis aujourd'hui en partie grâce au travail acharné que nous avons fait ensemble. Dave, merci, tu as été tout qu'un coach pour moi et maintenant un ami tu resteras pour toujours. Pat
P. Chartrand ( Elite MTBer, winner of SingleTrack6 2015 (Team of two))
Wanna join these guys bring your training and racing to the next level? Send us a note HERE